Science has demonstrated that the brain can recognize only that which it has been trained to recognize. Which means that the eye can see more than the brain allows into conscious awareness. With a camera, however, the pictures reveal what the brain cannot deny. So photographs show us more reality than we are able to see. All the following pictures were taken in the presence of Mensarah. None of them have been altered, save to enlarge.

Time to begin SEEING REALITY
---
---
June 20, 2012 Solar Eclipse
Notice the tree tops and clouds at the bottom of the picture to get perspective. The phenomenal colored energies were not visible to the naked eye, nor even through the camera. The picture takes "seeing reality" to a whole new level and makes us wonder what else we might see–beyond our five senses.
---
THE PORTAL June, 1992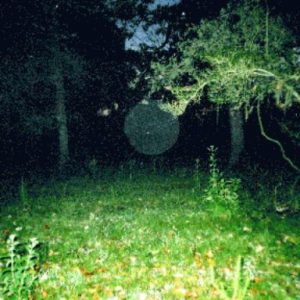 ---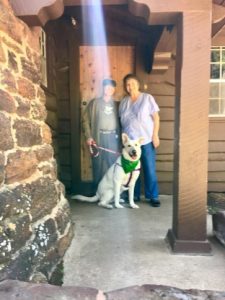 Unseen Light Shaft
January, 2020. Bastrop State Park Cabins, Texas. We paused for a departing picture after a lovely weekend. The light shaft appeared only in the cell phone display. We could not see the shaft of light, nor where it might originate, for only pine trees were above. It was Unseen by eyes.
Morning, sun is coming up in the East, behind the cabin. Nothing is above the cabin that reflects or focuses the light.
Photo Cred: Rev. Bridget Bernadette
---
---
---
THE FOLLOWING PHOTOS WERE TAKEN DURING A CE-5 EXPEDITION AT A LODGE IN COLORADO, USA.
CE-5 MEANS — Close Encounter of the fifth kind — the kind where earth humans initiate contact with extra-earth beings for the purpose of welcoming and reaching out in peace to our galactic neighbors.
---
---
RED SPHERE HIDING IN PARALLEL CLOUDS
It's around 2:00 a.m. and we are packing up to return to the Lodge when Wallace sees the two parallel clouds above us. Quite unusual. Mirror images, almost. They felt artificial, somehow. Wallace snapped a picture of them just for the records. When we looked at the camera display, the Red Sphere/Disk was revealed–not seen by eyes.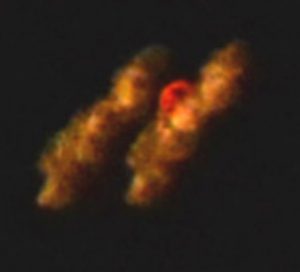 CE-5 instruction includes the probability that extra-terrestrial vechicles use clouds as protection.
---
TRANS-DIMENTIONAL ENTRY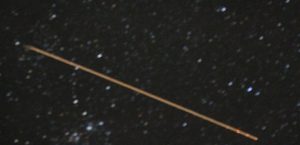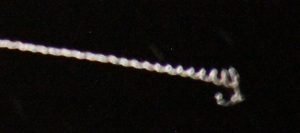 Photo Cred: Cameron Herndon. Colorado CE-5, June, 2015
CE-5 ALTAR DAY & NIGHT
SEEN FROM THE FRONT BY EYES IN DAYLIGHT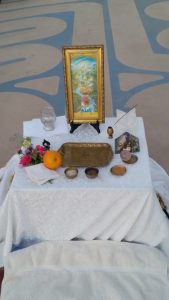 Photo Cred: Mensarah SEEN WITH INFRA-RED DIGITAL CAMERA AT NIGHT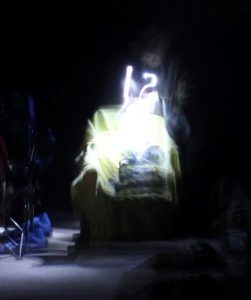 Photo Cred: